About the Founder
Sensei Tirthankar Nandy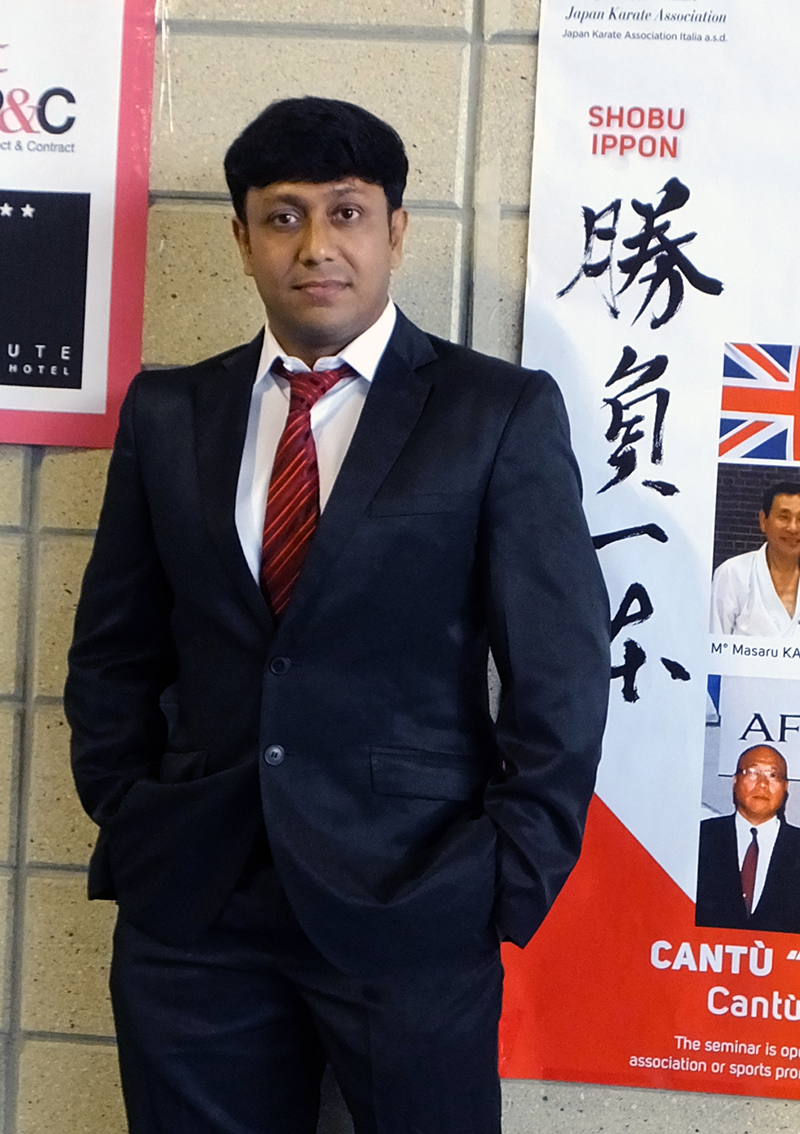 Since 1982, when Sensei was an infant, with the light of inspiration from his elder brother, he kept himself attached to the eternal way of bringing peace to his body under the mentorship of Yogarjuna Shree Manotosh Chowdhury, who runs his renowned institute named, "Swasthyasri", in Kolkata. Sensei Nandy's association with Yoga practice and participation in local, district and state level yoga championships went on simultaneously. With time, it came to his knowledge that Boddhidharma, who is considered as the first person to invent the art of self defense fifteen hundred years back, was also a master in Yogasana or Yogic Postures that bring forth the union of the body and the mind. However, it was Sensei's elder brother who inculcated in him the idea that Yoga and Karate, the art of Self Defense will be a unique combination to venture for and excel in every strata of life. In 1986, Sensei Nandy took admission in a Budokan Karate School and carried forward his yoga and karate training simultaneously, catalyzing his ability as well as his merit in the arena of Martial Arts under the able tutelage of Sensei Sanjit Saha, a senior Budokan Master, and Grandmaster Chew Choo Soot, the Founder Grandmaster of Budokan Style. Till 1990, Sensei Nandy won many district and state level tournaments in Karate.
In the year 1991, Sensei received his Shodan (Black Belt 1st Dan) from the Grandmaster of Budokan style, at the age of merely sixteen years and also participated in the Budokan Karate National Championship held in Kolkata at Salt Lake Stadium where he won a Bronze medal in Kata. Eventually, Sensei opened his first Dojo with one of his colleagues and senior Sensei Kashi Nath Polley.
He went on to bring laurels for his State from the Budokan National Karate Championships in 1993 and 1994 respectively. To add to this, in 1994, Sensei received his Nidan (Black Belt 2nd Dan) from Grandmaster Chew Choo Soot himself and received an invitation for special training and competition from the Grandmaster's office in Kuala Lampur. Sensei was looking forward to his first international tour to Kuala Lampur with all his heart and soul when his dreams were shattered by the painful demise of the Great Master in 1995. The Karate world deeply mourned the death of a great Master.
The year 1997 brought with it one of the vital junctures in Sensei's career when he met Sensei Vasant Shetty, a renowned Karateka from Mumbai, for the first time. Needless to mention, Sensei Vasant Shetty was a very accomplished Karateka who won many National, International and World Championships.
Sensei Nandy feels that it was during his training session with Sensei Vasant Shetty, for the first time, had the opportunity to learn the advance "ashi sabaki" technique which is required for Kumite. Sensei Shetty taught Sensei Nandy, blocks, counter attack techniques and foot work which are in use in the International tournaments and World Championships and told him it is not possible for someone to learn these techniques unless Karateka travels abroad to receive first hand training under reputed Masters as well as participates in International Tournaments. In 1997, a golden opportunity knocked at Sensei's door once again and it was a prestigious invitation which he received from KBI World Headquarter in Sydney, Australia, for participating in a KBI International Tournament followed by a training camp. However, unfortunate enough, he faced some problem regarding visa for which he could not make it to the event. It was in the same year, that is, in 1997, Sensei received his Sandan (Black Belt 3rd Dan) from Grand Master Richard Chew, son of Grandmaster Chew Choo Soot. Three years later, that is in 2000, Sensei Nandy was fortunate to receive an invitation from the Grandmaster of "Seido Karate" Kaicho Tadashi Nakamura from Japan. Sensei Nandy and his senior students went to Delhi for a week long training from the world renowned master. Kaicho Tadashi Nakamura was impressed with Sensei's training and dedication and invited him to his Dojo in U. S. A but due to some financial constraints the trip had to be cancelled at the eleventh hour.
Sensei Nandy, undettered and confident, kept on moving ahead with his career and received his 4th Dan from Sensei Vasant Shetty, after which he left for Australia for an International tournament in 2002. In 2002, he returned with laurels for his country and was ranked second in Kumite in the SAARC nations tournament held in Nepal In 2003, Sensei Nandy joined Go-Soku Ryu Karate under Shihan B. H. Choudhury. Since Budokan and Go-Soku Ryu were both Shotokan based styles, it was easier for Sensei Nandy to adapt to the style. It must be mentioned over here that the Grandmaster of Go-Soku Ryu style of Karate is Soke Takayuki Kubota who is a legend in the field of Martial Arts.
Since 2005, Sensei Tirthankar Nandy has been participating in many tournaments abroad as a contestant as well as a referee and a judge. Among all his trips the most successful ones are the trip to Argentina, in the year 2007, for the IKA World Championship and for the JSKA World Championship which was held in Manchester Velodrome Stadium, England, in the following year, that is in 2008.
The 2007 Argentina trip remains to be etched in memory for many reasons. Sensei received two silver medals, one in Kata and one in Kumite in the IKA World Championship. Another precious memory was that he was blessed to receive valuable tips in kata and kumite from Soke Takayuki Kubota who happens to be the teacher of famous Hollywood stars like Tom Cruise and Arnold Schwarzenegger. To add to this, Sensei's three students, out of six, received gold medals in Kumite and Kata events while the rest three bagged Silver and Bronze medals in the IKA World Championship. Following the glorious success, he returned to India and headed to England, Scotland and Ireland, within a week. He remained in United Kingdom for a month long training under renowned British Shotokan masters and participated in British Shotokan Karate National Championship and won a Gold medal in team kumite and a silver in individual kata.
Later on, after returning to his country, Sensei Nandy introduced British Shotokan Kyogi Karate in India along with his long time Martial Art friend Sensei Manoranjan Biswas. In 2008, represented India in the JSKA world championship held in Manchester Velodrome Stadium, mentoring a team of twelve members. The 2008 JSKA world Championship was an eye opener for him and was probably the biggest event for Sensei Nandy and his students, since it was an event which witnessed the participation of thirty four nations, spnanning throughout four different continents and in its truest sense, it was by far the largest international event that Sensei Nandy had participated in, till that period. Six members from Sensei's team received bronze medals in the World Championship, making it yet another success in his life.
It was indeed an event of pride and honour for Sensei Nandy since he was the sole Referee and Judge from India. He was extremely privileged to have received training from the legend of Shotokan Karate and Grandmaster of Japan Shotokan Karate Association, Keigo Abe Sensei, who was present in the very event. In 2009, he participated in the British Shotokan Karate National Championship, once again, along with his students. His students returned with many trophies from the tournament. In 2010, Sensei participated in the JSKA World Championship held in Portimao, Portugal.
As per expectations, the Indian team emerged victorious and won accolades for their country. Thereafter, Sensei, along with his students, has participated in a number of International and World Championships till date. The JSKA World Championship held in Terni, Italy, in the year 2014 was no less prestigious for Sensei than the previous ones and as far as winning medals was concerned, acquires the highest position since the Indian contingent of eight members came back with twelve medals among which six were gold medals in individual events and three in team events. The rest were silver and bronze medals. Among 28 participating Nations, India achieved the ninth position in the medal tally. Although, 2018 JSKA World Championship, St. Petersburg, experienced a small contingent of only six members from India, yet the performance of the Indian competitors was exemplary and admirable with twelve medals in their kitty among which, seven were all gold medals. Sensei Nandy crossed another milestone in 2015, as for the first time he visited The Nihon Karate Kyokai (Afro Eurasia Championship) in Como, Italy. The Japan Karate Association is known to be the largest and the oldest Karate organisation in the world, with its headquarters in Tokyo. Sensei has always been thirsty for knowledge in order to take himself to the level of absolute perfection and hence, to understand the philosophy and training methodology of Nihon Karate Kyokai (Japan Karate Association), he visited their headquarter in Tokyo. Over there, he feels to have experienced one of his most memorable training sessions in his the then thirty years of Martial Arts career.
The country, along with those amazing people around, has taught him many things which are worth mentioning. Quite interestingly, each and every Japanese citizen considers the country and the city as his or her own home for which the sense of sanity among them is phenomenal. Moreover, their civic sense gets portrayed in their attitude towards the cleanliness of every nook and cranny of their homes----even if it's a matter of throwing any random trash that might have come their way on a pavement, they are extremely careful about it. The Japanese are always meticulous in maintaining discipline and they prefer not to bother fellow pedestrians or in public conveyance by being loud over their cellphones. Their punctuality reveals their disciplne towards the value of time.
During his visit, Sensei had learnt that the ideologies of some of the senior most sensies in Japan Karate Association is much different from that of the prevailing conventional thoughts about learning karate in Indian society. It not only teaches and inculcates discipline by maintaining health and teaching self defense, but is also an art that helps to bring one's mind, body and soul into unison. Sensei acquired chances to interact with a couple of very senior and renowned sensei's namely, Yano Sensei, Kawasoe Sensei and Kamino Sensei during his trip to Tokyo in October 2015 it was from them that he learnt "Karate is a way of life". Despite their age and other physical constraints, many sensei's whose ages vary between seventy and eighty, do practise Karate regularly because for them Karate is their driving energy----it is their life line. Karate is like some energy booster and works as a natural medicine who have dedicated their life towards this art.
According to Sensei Nandy, "Karate is actually a fathomless ocean which is certainly not only an art but is also called Martial Science where the laws of Physics, Chemistry and Mathematics prevail. It is like an endless learning process. To sail through this boisterous ocean smoothly, one needs to study and practise the art form throughout one's life".
Sensei keeps on travelling round the world for various seminars and championships and continues to visit Matsuyama, Japan, every year for training in the JSKA hombu dojo under the watchful eyes of the Maestro Susheki Shihan Keigo Abe for his eternal strive for enrichment and for basking in the pursuit of knowledge. He feels that all karatekas should be imbibed with the famous Japanese saying in the field of Martial Arts, "Issho Benkyo" which means, always a student. Only then will humility prevail among all...